Since our wedding is in the sand, and guests have to walk a long ways down an old dock that isn't exactly high heel friendly, AND I'll be barefoot and don't want anyone's spiked heels piercing my foot on the dance floor; I had this great idea....

(Images from Sparkliatti, VUE Photography, Weddingbee, and Weddingbee)


Ok. So
I
obviously didn't come up with the idea, but I sure like it! So we knew we wanted a basket of flip flops for our guests, and then I saw these on
Its a Jaime Thing
....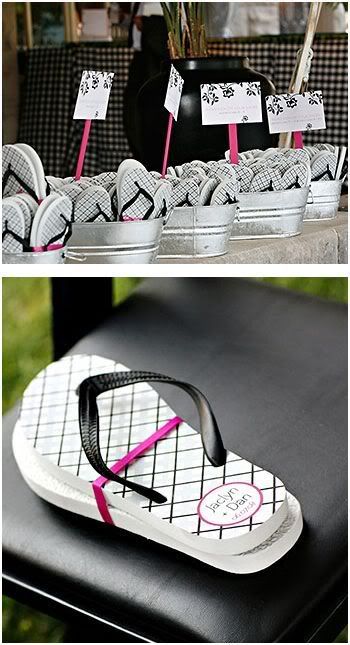 I love the labels on the heel! At this point I've been tempted by many a
Weddingbee
to get a Xyron machine and make some personal labels. I was looking at where to get them and how much they cost when my sister pointed out that stickers in shoes tend to peel off and then adhere themselves to the wearer's heels...hmmm... I think I'll avoid that potentially sticky situation (pun intended! =) ).
Enter a Joanne's summer sale. $3.99 for 3 pair of flip flops... count me in! My mother wiped out the Panama City Joanne's and I put a dent in the Pensacola's stock.
Still unsure of exactly what I wanted to do, I grabbed a puff paint thing I had around the house and with "
When We Left Earth
" playing in the background...
oops - Now one where I knew the picture was being taken...

About an hour later... voila! All 25 of the pairs I had were done!

Not exactly a creative or difficult DIY, but I did it myself! On to creating signs and figuring out what baskets to put them in.
Anyone else really proud of a
really
simple DIY?