Adam spent 2 years on a Coast Guard Polar Icebreaker that spent 6 months out of the year in Antarctica! It was on the way back from one of these trips that the ship make a port call in Hawaii, and he came to stay with me for the week. Needless to say, Antarctica is a special thing for him, and for us. So while he'll be in a uniform and not a penguin suit I thought some penguins details could be fun. (I'm incorporating a little bit of Antarctica in an unusual tradition during the ceremony.... but you'll have to keep stalking my blog to find out what!) I just came across these from a posting on
It's A Jamie Thing...
(a great blog I'll feature in my Blog Bliss here soon!), and I love 'em!
"Dressed for the big day in their tuxedos, our penguins have a dark chocolate and lemon ganache, and their almond arms welcome everyone to the wedding." - Burdick Chocolates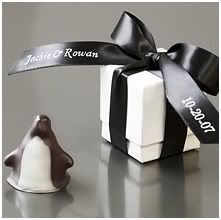 How cute is that?!!
And how cute is he? =) Yup, thats my fiance and a couple of inquisitive penguins in Antarctica. (Image courtesy of another Coastie aboard Polar Star)
I suppose I'll add this new idea to the list of wedding ironies - Tropical style wedding, with penguin accents!! Anyone else going against their own grain to achieve personality?