So back to the Friday night party.... And Erka's fabulous hair! (I don't exactly remember why this style was modeled right then, but it was very entertaining and I was very glad I had my camera out!)
We brought our new Wii and decided that Saturday night, after the party, we would all go out to some bars and really party it up. But for Friday, we wanted to stay in and just hangout and be the lazy bums we all really are. So, first, we made Mii's for everyone! Kat, modeling herself above.
So about the time the clock was near midnight, we were mostly turning into pumpkins. I say mostly because Kat was falling asleep and Adam and I were finding it difficult to keep our eyes open. Erka and Josh, however were still wired... and tipsy. So while the rest of us headed off to bed, they headed out to the pool. And a few hours later I got a text message from Erka letting me know they were going to sing karaoke at a local dive bar. A few hours later I woke up to a beer bottle crashing to a million pieces on the kitchen floor as they were loading up supplies to continue the party at a friend's house. Notice we are adding hours on hours here and I started around midnight? Oh yeah. They came back to the condo around 9am and passed out while those of us rested got going for the day and went shopping and to play at the beach.
We came back in to find them waking up and piecing together their night... apparently Erka lost a fight with a fence....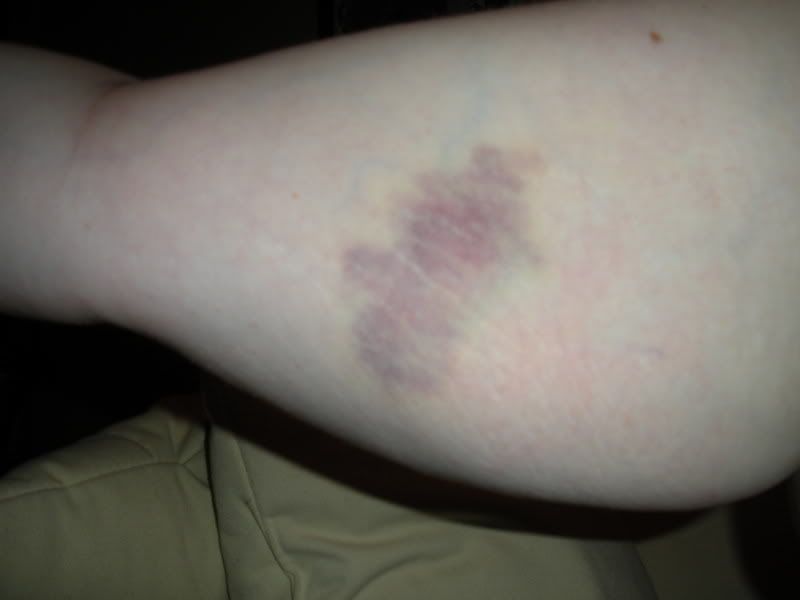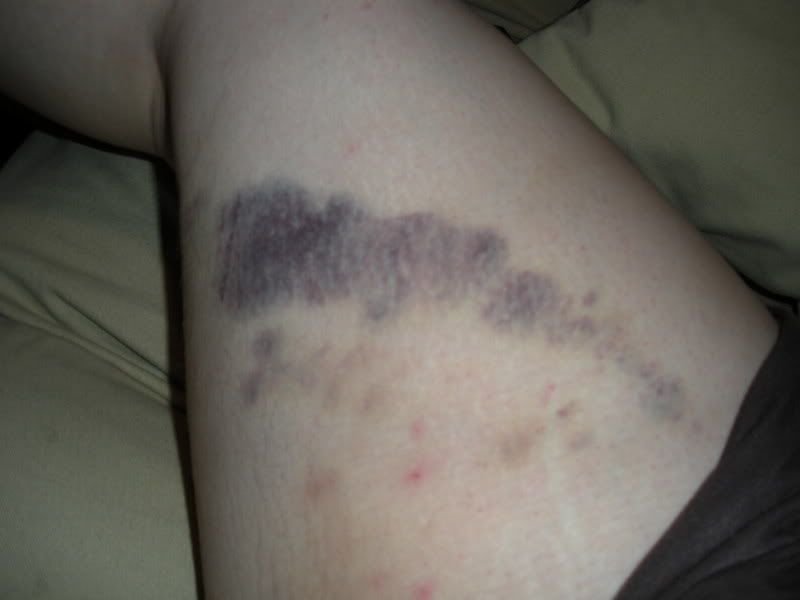 And I think some details are forever lost to the night. The funny thing was, a few years ago, I would have been with them. Erka and I could party beyond the break of dawn like none other. Call me old, but I was having a damn good time playing the Wii with a Mojito in hand and calling it a night around 1 or 2 am. It did make me think about what I might want out of a bachlorette party. I guess I'd really want it to be something in between. I don't feel the need to pretend like I'm 21 still living in Orlando, but I wouldn't mind dancing and drinking for a while, whilst spending time with my best girl friends.
Did anyone else have a party that gave a reality check on how they have changed over the years or gave insight to the things you did or did not want to come to pass at your bachlorette party?
I know, I know - it's FINALLY time to tell yall about the actual shower!! :)